ESG and sustainability
The first publicly available digital sustainability report in Europe has been published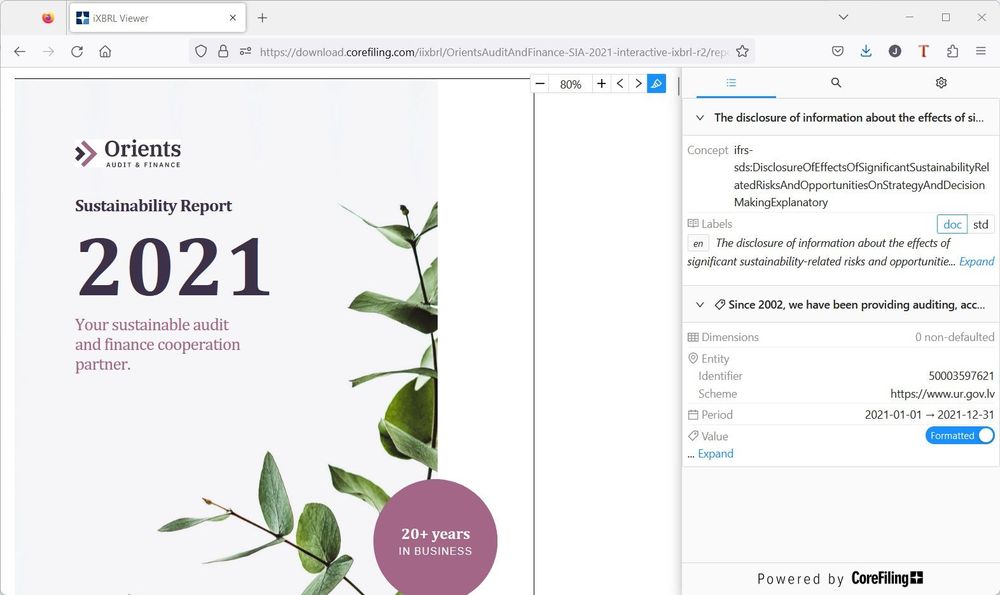 Orients Audit & Finance in cooperation with CoreFiling creates the first publicly available digital sustainability report in Europe.
In September 2022, we have announced that Orients Audit & Finance has become the Baltic partner of the British global software and service company CoreFiling. Since then, our team has been successfully providing ESEF report conversion and tagging services to companies listed on the Nasdaq using CoreFiling Seahorse tool.
Today we are proud to announce that in order to demonstrate the readiness of Orients Audit & Finance and CoreFiling to tag Environmental, Social Responsibility and Governance (ESG) factors in a sustainability report in accordance with the requirements of the Corporate Sustainability Reporting Directive (CSRD), we have created the first in Europe a publicly available digital version of the sustainability report, which can be viewed here: https://download.corefiling.com/iixbrl/OrientsAuditAndFinance-SIA-2021-interactive-ixbrl-r2/report/index.html .  To tag this sustainability report, currently, the only digital sustainability taxonomy available in the world has been used - the taxonomy project of the International Sustainability Standards Board (ISSB) created according to the standards project of the Sustainability Accounting Standards Board (SASB) .
"Taking into account the experience of the USA in the digitalization of financial statements, it has been proven that the digital format of reports improves the level of reliability of investors and other users about the data reflected in there, as well as increases expectations regarding the successful operation of the company in the future. The goal of Orients Audit & Finance is to provide our clients with a convenient, smart and timely transition from traditional outdated report formats to modern digital solutions. We are pleased to become the first European company to create a digital version of the sustainability report in cooperation with CoreFiling."
– comments Orients Audit & Finance business development and digitization manager partner, Jekaterina Novicka
For context, we remind you that the requirements of the Corporate Sustainability Reporting Directive also require the digitization of financial and sustainability reports. This means that the reports will have to be provided to regulatory authorities in the common electronic reporting format XHTML. Whereas the management report, which will include the sustainability report, will have to be tagged according to the iXBRL specification using the digital taxonomy of the future European sustainability reporting standards, which are currently under development and not yet publicly available.
Learn more about our data and report digitization services here, or contact us to schedule the first free meeting with our experts and have all your questions answered.